One year ago, I bought this two-owner, 23,197 mile bike at a fair price, the paint was faded, but perfect for what I had in mind. I proceeded to remove all the bodywork, sand off the striping, fill most all the holes ornament and logo holes with automotive epoxy, and primed and shot the bodywork with automotive "one-step" black acrylic.
Not liking (or needing) a radio, I removed the cassette unit which was mounted between the windscreen and instrument cluster. I may re-install it at a later date.
Mechanical work included replacing the cam belts, adjusting the valves, replacing the fork fluid and springs, and performing the normal maintenance items. I also replaced the rusty exhausts with a new Jardine system, installed a new starter, and bolted back all the body parts with NOS Honda weatherstripping.
The previous owner had mounted new tires and a windscreen, so I could forego that expense.
On the lift, with the new exhaust, and the freshly painted fairing,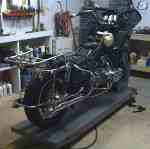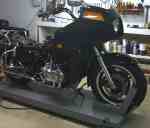 and, the finished product; she's a sweet ride, a perfect two-up RV.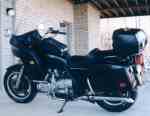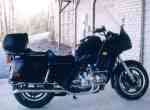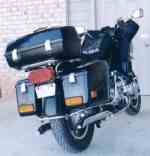 Click on thumbnails for larger prints.
I sold the bike in mid-2001 to a gent in western Ohio, who was very satisfied with the purchase.
Rick