Bill Bell
Bill Bell's 442cc Hondas were unique in championship off-road racing. In the 70's, these four-stroke, super-thumpers won major motocross, grand prix, professional dirt track and TT scramble races against the best factory two-strokes. But, unlike the unobtainable factory bikes, Bell's bikes could be bought by us mere racing mortals.
Click on thumbnails for larger prints.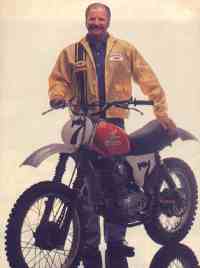 From Cycle, October 1977. The process used to stroke the XL350 involves disassembling and rebuilding the crankshaft. The big end pin holes in the crankwheels are offset further from the crankshaft's axial center line. After this machining process is finished a special spacer is inserted in the relocated hole. The stock big end pin is then pressed into the special spacer.
The connecting rod of the stroker motor has to be shortened by an amount equal to half the increase in the stroke. The 78mm stroker crank (seven millimeters more than stock) uses a rod that is shortened by 3.5 mm. The 82mm rods are 5.5 mm shorter than stock.
The rod shortening process is straight-forward, but precise in nature. The stock Honda rods are fitted in a simple jig fixture which maintains horizontal alignment of the big and small end bearing holes. The jig fixture is then placed in a small hydraulic press, and heat is applied to the center portion of the rod. When the color of the copper-coated Honda rod turns to the proper shade of orange, the press compresses the I-beam center section. After the rod is quenched it's as strong as when new. The shortened rod is recognizable by the fat section in the middle of the I-beam section. The blacksmithing process sounds primitive, but it's amazingly effective. Bell has never broken any of his shortened rods.