Dave Smith's XL250 road racer

2 July 2000
Rick

I have hopefully attached four zipped JPEG pictures to this e mail. Two are taken at Aintree Liverpool, which is the same place that the famous horse steeplechase, the "Grand National" is run, on the green bits, not the black bits! The one on the concrete is at East Fortune, complete with emergency back brake cable repair, and the other at Tye Croes, with my brother in the background. I have appended some ramblings, and could distill these into something more concise if you wish.

Best Regards

Dave Smith
Note: Dave was one of the two mates (along with Briam Gomm) who contacted me originally, prompting me to ride the World Twinshock Champiohship. Brian and his wife Jean are delightful people, both visited Hawkstone, cheering me on, and providing Susie and I with a large dose of that fine British hospitality.

Details regarding the bike, and experiences with it.

The engine is an XL250 motorsport sideport, from 1972/1973 which was found in a Suzuki field bike, having been ridden on the beach by a friends son, without air cleaner of course, until it burned more oil than petrol! Having settled on a suitable number of negotiable beer tokens, the engine was mine!
Having a rough but useable CB250 G5 rolling chassis in the garage, it was decided to build a single cylinder classic road racer, to replace the AJS 250 four stroke single, constant speed, variable noise device, that I was riding at the time in the single cylinder class. Having bent the swinging arm one day when ratchet strapping it into the van, I came to the conclusion that the handling was not interesting anymore, but dangerous, and it was doomed for a dark corner of the garage!

The XL engine picked up on the original G5 bottom rear engine mounts, and a reversed removable top rear engine mount, which made fabricating and fitting the rest of the mounts straightforward, the only area that caused concern being the asymmetric bends of the lower cradle. A set of re-chromedDucati forks and a Ceriani 7" double sided sls brake was fitted and the hand lever converted to a twin cable balance tree arrangement. The complete front end mated up with aftermarket Honda G5 taper rollers without alteration. The frame was also seam MIG welded along its pressed steel spine.

On stripping the engine it was found, rather unsurprisingly, that the bore was worn, oil filter was solid, and the clutch pushrod bore in the outer case was broken off. So a rebore, and an outrigger bush for the clutch pushrod, screwed and dowelled to the case sorted the mechanical problems out. The original cam was ground to the same profile as the race cam from my CB77, which has fairly conservative timing, but lots of lift. The lobes were still hard after this, but the end cam bearing surface was also badly worn. As a temporary fix, this was turned down, and a correctly sized phosphor bronze bush pressed on, the journal in the head being left alone. This temporary fix is still in place and working fine! The fly wheel assembly was removed to improve acceleration.

Carburetion was by a 32mm Amal Mk2 with a short bell mouth, fitted on a Suzuki inlet rubber. Fiberglass was supplied by a local racer, Ken Helliwell, and tyres were KR124 Dunlops that were lurking in the garage. Exhaust assembly was a silenced Megaphone with expansion box, taken from my brothers large stock of experimental Aermacchi systems made up over the years in attempts to civilise his short stroke 250, mated to a Triumph front pipe, again from the garage. Ignition was by battery and standard points. An old Girling hydraulic steering damper was also fitted running to the front fairing bracket.

The bikes first meeting at the extremely bumpy East Fortune circuit in Scotland revealed a couple of problems, seized rear shock absorber, and a broken piston circlip. As a new oversized piston was not immediately available, and the circlip groove was damaged, the bike was run with gudgeon pin buttons for the rest of the season, mainly at the Aintree and Tye Croes circuits. The only difficulty encountered in the rest of the season being a strange misfire on left hand corners, eventually traced to my knee blocking the extended carburetor bell mouth that we had fitted to cure what appeared to be excessive blowback from the carb at medium revs.

Over the winter the engine was stripped, and a CB250 RS (XL250S) piston fitted as it has a higher dome. The lower deck height of this required a shortened barrel. At this stage, whilst opening out the ports for larger CB250RS inlet valves, disaster struck, and the gasket face of the head was gouged. This resulted in a lot of metal having to be removed to clean it up, the face now running across the edges of the valve inserts. The piston was machined to give .060" squish clearance, and 11.5:1 compression, reducing the higher dome to about std spec in the process! At this stage the exhaust
primary length was shortened as well, but probably not by enough as it turned out. All of this created a further problem as the cam chain tensioner would not bow enough to tension the cam chain. A two link smaller chain would not quite fit, so the end of the tensioner that is bent into the circular form, was heated and unrolled, and a solid metal dowel silver soldered in place. The tensioner was quenched from red heat in oil, and tensions everything up fine.

A swan neck induction manifold was also made from some old exhaust pipe, (Royal Enfield this time, also from the garage!) which allowed the carburetor to remain inside the frame. A set of long Mk 1 Girling gas shocks, with check springs were fitted.

The bike is now considerably faster, still retains good low and mid range power, and handles and stops superbly well, a major advantage being its rapid acceleration away from the line, which is a bonus in the short scratches over here. No doubt a lighter rider would find substantially better acceleration and speed! Reliability to date over some 7 meetings this year has been total, apart from a snapped rear brake cable.

Future intentions are to fit a megacycle roller bearing cam, and a calculated exhaust system, as after some correspondence with Swiss it appears that shouting down the open end and pronouncing it resonant is no longer good enough! I may also get my brother and the third member of our race team, oily tom, aka Ellis Moore, BSA speed demon, to make a slightly higher fourth gear, or lower fifth gear pinion set, to close the gap between fourth and top a shade. They are practicing precision engineers, whereas I am just practicing.

I might also get round to setting up my old Heenan and Froude water brake dyno, which is currently sat in the garage, and doing some real engine development.
Dave Smith, North Wales, United Kingdom JSmith2859@aol.com

Dave Smith's Honda CB77 Road Racers
3 July 2000
Please find attached 4 zipped JPEGS of my CB77 Two of these were taken on the Isle of Man TT course during the Manx Grand Prix, ridden by a workmate and friend Rob Robinson. The locations are at Quarter Bridge, and the Bungalow. You might see the smoke and sparks in the Bungalow shot as Rob has the bike well decked out. The other two shots show the bike in later condition, the shot on the grass in the Tye Croes paddock being current condition.
Description and History
The bike was originally built as a 250 specifically to gain a second ride in the Manx Grand Prix in the 250 classic class, for a great mate, Brian Robinson, in 1990.
Engine spec was Phil Joy cam, M and M stainless valves from Denis Murfin, Piranha Ignition, Swarbrick race exhausts, and lightened and polished crank. The 2nd and 3rd pinion sets were swapped around to close up the ratios somewhat. Brakes were standard 8" tls drums with race linings, forks also being standard. Carburetion was by 31mm Amal Mk2's.
Only problems encountered in this guise was a leaking clutch pushrod oil seal, snapping camshaft camping bolts, and the rubber cam tensioner rollers disintegrating. These were replaced with steel rollers. As the cam bolt always broke in the same place, this suggested it was in a vibration node position, the cure was a rubber sleeve at mid length to damp out vibration.
Following a monumental blow up in the Isle of Man, caused we think by a rogue valve cap failure, from which we salvaged the clutch and rocker covers, the new engine was then taken out to a full 350, using Kawasaki Z400 liners and pistons, which caused some problems with excessive compression, great speed (for a short time) and melted pistons, resulting in thinned crowns to bring it down. A test ride in this state at Knockhill in Scotland resulted in a high speed crash ,when the primary chain snapped. During this the bike cartwheeled for 50 yds, and I walked away. The amusing aspect was being greeted as a long lost brother by the track marshall who had picked me up at the same point the previous year, when I high sided my Weslake, hospitable folk the Scots! The primary chain was then changed for a John Davidson duplex set up, which has subsequently been bulletproof.
As a recommendation for anybody racing these bikes the standard primary will not stand up to a tuned full bore 350 engine and is potentially lethal. The other safety related tip is to mechanically or epoxy restrain every oil seal from popping out, and to fashion a guard for the clutch case oil gallery as the case decks out here first.
The bike was then fitted with Keihin CR smooth bore carburetors, and MAXTON modified suspension, and successfully raced in the Manx Grand Prix by Rob Robinson. An oil cooler was fitted for this, as oil temperature and capacity is marginal for this race (150 miles flat out most of the time).
More recent modifications are Amal Mk 1 carbs as parts for the Keihins appear not to be available, and wear has set in, causing poor starting, silenced exhausts, 350 k4 pistons, and Boyer ignition. Also following layshaft bearing collapse, the manufacture and fitting of a solid layshaft 4 speed c/r gear cluster, made by my brother Pete, and other race team member Oily Tom. Although race kit 5 speed clusters are around, they are known and demonstrated to be weak, but the NOVA 5 sp clusters have a good reputation if the requisite amount of dosh is available.
A replica 8" double sided tls brake made by my brother was also fitted as stopping the plot was becoming a problem at circuits with hairpins. As the crank journals had worn, hardened collars, allowing use of CJ360 or CB250 G5 rods were manufactured and fitted. This has been completely successful over 5 seasons, and saves irreplaceable cranks. These collars are now supplied by John Davidson.
As it is now the bike handles well and stops, is reasonably fast on top speed, but is heavy, due no doubt to the substantial over engineering in metal thickness obvious in these engines.
Click on thumbnail for larger print.
Other Honda Road Racers, owned by friends of Dave.
4 July 2000
Just been admiring your CB450 racer on the gallery page, and thought these pictures might be of interest. The CB450 is in a Dave Kirby chassis, made in the classic period, and is similar to a Seeley chassis. The RSC 350 , or is it a CYB, is a genuine works bike, see axial drum brake fining, and was ridden by Jim Redman at the East Fortune meeting. The bikes belong to a friend who sponsors John Davidson.
Regards
Dave

Click on thumbnail for larger print.
31 August 2000
Rick
Couldn't resist sending you a picture of the XL and the winners cup from the July Aintree meeting. I had a third place there at the August meeting, and am lying third in the championship by a couple of points from a Machi and the infamous Oily Tom on his BSA, so its all down to the September meeting when I race on the Saturday after getting back from Florida on the Friday! I will load the van up before we go on holiday on the 7th I think!
I have removed about 7 inch from the header pipe and lengthened the Megga in line as closely as possible with the figures from Swiss on your web pages hoping to gain some revs down the long Aintree straight.
I tried a bit of magnetic voodoo on the bike at the last meeting, some friends sell magnetic devices that claim to do all sorts of things from alleviating arthritis in horses to improving fuel consumption, so I said I would trial the motorcycle power booster/economy magnets for them on the XL as a laugh, regarding the whole issue as Snake Oil.
Not sure who is laughing now though, the bike was faster, and interestingly started to suffer detonation on the previously optimum main jet. After jetting up, it still revved out better! The magnets clip on the fuel line, and are still there!!!!
I am planning to put in a Megacycle cam over the winter and will no doubt be speaking to you on that, and also to fit a lower top gear set of pinions from a CB250RS (XL250S) , that should close up the 4th and 5th ratios a little. Major project though is to get my old Heenan and Froude Dyno installed in a shed and do some proper engine development, I will need to acoustically insulate the place though if I am not to learn some interesting new Welsh expressions.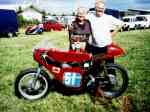 Click on thumbnail for larger print.
25 September 2000
Rick
The XL ran very well at Aintree, the modified exhaust dimensions as per the recommendations from Swiss, after a bit of rejetting to stifle lean running, made an amazing difference to the maximum revs, to such an extent that I increased rear sprocket size by two teeth to scream it down the straight. Lap times improved substantially, guess I owe Swiss several beers for that!
After some good initial laps in the final, I had a major slide when the back wheel stepped out, with the bike then pogoing badly, I rode round sedately for a finish where I found that one of the rear shock spindles had detached itself from the mounting yoke due to a weld failure, leaving me on a monoshock! Not sure where the springs ended up, probably still bouncing, may even have cleared the Irish Sea!
We have one race left this season at Tye Croes, but its more of a party animal event where the swapping of outrageous war stories is accompanied by the odd beer or two!
I had an e mail from Brian Gomme, turns out he is a mate of our team member Ellis the BSA speed demon, small world these days!
Best Regards
Dave Smith
28 January 2001
As threatened please find attached a zipped JPEG of the mighty Jamless (Matchless crankcase badge one side, AJS the other). Lad behind is Rob Robinson who rode my CB77 and Weslake in the Island, also rode in the UK 600 championships, and was very competitive.